Description
Sculptor: Wandah Kurnikawan | Claudio Saavedra Iriarte
Painter: Artizlabel | Adeeb Md
Background:
Eren Jeager (エレン・イェーガー) was a former member of the Scout Regiment. He was the main protagonist of Attack on Titan. He lived in Shiganshina District with his parents until the fall of Wall Maria, where he impotently witnessed his mother being eaten by a Titan. This event would lead to Eren's intense hatred towards the Titans as he swore to wipe all of them off the face of the Earth.
Levi Ackermann (リヴァイ・アッカーマン), often formally referred to as Captain Levi (リヴァイ兵長), is the squad captain of the Special Operations Squad within the Survey Corps and is widely known as humanity's strongest soldier.
Mikasa Ackermann (ミカサ・アッカーマン) is one of the two deuteragonists of the series, along with Armin Arlert. After her parents were murdered by human traffickers, Mikasa was rescued by Eren Jeager and lived with him and his parents, Grisha and Carla, before the fall of Wall Maria. She is the last descendant of the Shogun clan that stayed on Paradis Island, thereby related to the Azumabito family, and holds significant political power in Hizuru.
Edition size: Made-To-Order (MTO). Actual edition size will be announced after pre-orders are closed
Scale:  1/10
Dimensions: L66 x W64 x H71 cm (approx.)
Weight: 22 kgs (approx.)
Shipping: Q4 2023
Materials: Polystone/Polyurethane resin
Special feature: LED light up, Translucent resin for skin and Realistic acrylic eyes
Exclusive: Scout regiment metal pin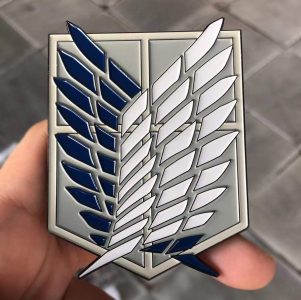 Note: Final product may vary slightly as we keep making improvements during production