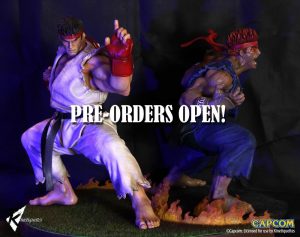 The Day is finally here! Kinetiquette's first 1/4 scale project is ready for pre order!
The wandering warrior, always pursuing to surpass himself and his evil side, succumbbed to the influence of the "Satsui no Hado". Two sides of the same coin, yin and yang, a constant and never ending battle between flesh and spirit…Ryu and Evil Ryu, two iconic faces of the Street Fighter universe, in 1/4 scale high quality polystone statue form!
Available on Kinetiquettes website with 10% discount on the pre-o period and payment plans option too. Also available on official distributors, partners and retailers!